P&G to Rebrand Labels of PUR Water Purifications Packets
Proctor and Gamble (P&G) announced in December that it will rebrand labels of PUR water purification packets, a strong endorsement of the product. The product will now be called P&G Purifier of Water. To date, PUR-branded sachets have been the basis for the P&G-funded Children's Safe Drinking Water (CSDW) Program, a non-profit program which has prevented an estimated 120 million days of diarrheal illness and helped save 16,000 lives.
PUR is a powdered water clarification and disinfectant treatment that comes in small, affordable, and easy-to-use packets. The product removes dirt, cysts, and pollutants, and kills bacteria and viruses in contaminated water.
The program currently provides funding for over 100 partners in more than 60 countries, including FHI 360's Mswakini Safe Drinking Water Program in Tanzania. It is expected that the packets will be officially changed within 6-12 months.
Read the full release from Proctor and Gamble here.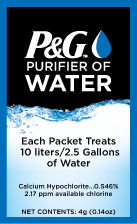 Posted December 2011
---
Read more about the Mswakini Safe Drinking Water, PUR Demonstration project