MAPS Project Helps Distribute 842,324 LLINs in Nasarawa, Nigeria
The new United States Agency for International Development (USAID)-funded, AED-managed Malaria Action Program for the States (MAPS) got off to a very fast start when, immediately upon award of the project in October, staff mobilized to help the state of Nasarawa and the National Malaria Control Program (NMCP) distribute 842,324 long-lasting insecticide nets (LLINs) to 421,162 families in five days in early December 2010. With an average of two people sleeping under each family-sized net, this equates to almost 1.7 million people protected against malaria-carrying mosquitoes.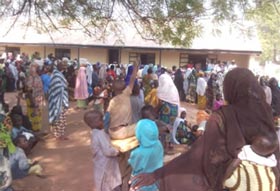 USAID/Nigeria asked the MAPS team to act quickly to help distribute LLINs supplied by the Global Fund for AIDS, Tuberculosis, and Malaria. Within days of project initiation, MAPS staff were in Nasarawa working with state, UNICEF, and NMCP staff to organize the mass distribution. Thousands of community volunteers registered people, distributed vouchers, and directed people to net-collection points. MAPS spearheaded demand- creation efforts by producing and broadcasting a series of radio ads informing people of the net campaign and of correct LLIN usage. MAPS staff helped by:
Training community volunteers.
Facilitating logistics.
Leasing vehicles used by supervision teams to monitor the ward-level distribution.
Working closely with state and Roll Back Malaria partners, MAPS staff also engaged the state Ministries of Local Government and Community Development, Women Affairs, and Information and made advocacy visits to the State Commissioner of Police, traditional leaders, and religious organizations.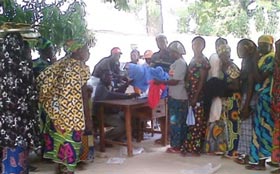 Currently, MAPS staff are working with the state of Zamfara to distribute 1.6 million LLINs in March.
MAPS is a five-year, $80 million USAID project under the President's Malaria Initiative (PMI) that will work with seven Nigerian states and the NMCP to improve malaria prevention and treatment services and to build local, state, and national capacity to design, implement, and monitor effective malaria programs.
Posted February 2011
---
Read more about the Malaria Action Program for States (MAPS) project