T-MARC Company Launches New Product in Tanzania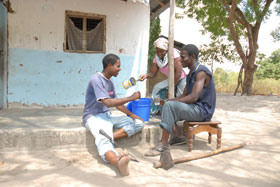 DAR ES SALAAM, TANZANIA - The T-MARC Company seeks to widen its appeal to stakeholders by adding Powdered Mixture for Purifier of Water (PUR®), a drinking water treatment product, to its portfolio of socially marketed products. New to the Tanzanian market, PUR is a powdered product that is packaged in a 4 gram packet, treating up to 10 liters of contaminated water. The product aims to eliminate disease-causing agents such as bacteria, viruses, and parasites and reduce waterborne diseases like diarrhea in vulnerable communities through treatment of drinking water at the point-of-use (POU). The T-MARC Company is wholeheartedly vested in the idea of adding a POU water treatment technology to its product line as it is in total alignment with its mission of promoting sustainable health impacts through the engagement of the Tanzanian private sector. The T-MARC Company already possesses a reputable public health brand base across Tanzanian markets, overseeing marketing and distribution operations for Dume male brand condom, Flexi P oral contraceptive, Lady Pepeta female brand condoms, Save Lo-ORS low osmolarity oral rehydration salts, and PedZinc tablets for children under five.
Diarrhea is one of the leading causes of morbidity and mortality among children under five and vulnerable populations, such as people living with HIV and AIDS (PLWHIV). Through POU water treatment - one of the most effective methods in diarrhea prevention - the wellbeing of vulnerable, high-risk communities will naturally be enhanced. PUR has been tested in countries across Africa, Asia, and South America and its results are substantive. According to Proctor & Gamble (P&G), PUR packets have shown a reduction in diarrheal illness of up to 90% among displaced people in emergency camp situations. In partnership with P&G and its local partner, Segerea Pharmacy, the T-MARC Company seeks to make similar strides to promote product uptake among high-risk populations within the Tanzanian market. T-MARC Company will employ a comprehensive approach to engage all stakeholders. The Company will train and build the capacity of Community Based Distributors (CBDs) under the auspices of the Private Nurses Midwives Association of Tanzania (PRINMAT) to effectively demonstrate water treatment technologies. It will also target accredited drug dispensing outlets (ADDO) as suppliers, leveraging existing CBD networks. A pilot program is planned for the Morogoro region; based on its findings and lessons learned, T-MARC will work on implementing enhanced strategies across the other 10 target regions.
Posted March 2010
---
Read more about the Tanzania Marketing and Communications Project (T-MARC) project
Contact