CPSHI Staff Present at GHC Conference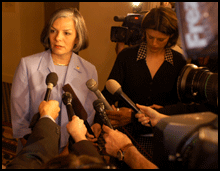 Two representatives of the AED's Center for Private Sector Health Initiatives (CPSHI) presented at the Global Health Council's 37th Annual International Conference, attended by more than 2,500 practitioners, global health and world leaders, activists, multi-lateral organizations, the public and private sectors, members of academia, and researchers.
Camille Saadé, Director of AED's Point-of-Use Water Disinfection and Zinc Treatment (POUZN) Project, delivered a presentation entitled "Leveraging the Private Sector to Scale POU Interventions" on June 16, 2010. Mr. Saadé's presentation focused on issues and lessons learned through the POUZN Project, particularly the sustainability of both commercial and NGO involvement in establishing POU use. He described POUZN's role as a catalyst in leveraging partnerships to more effectively reach the base of the pyramid in Uttar Pradesh, India.
Click here to view Mr. Saade's full presentation.
The POUZN Project also released a relevant Lessons Learned report in June 2010, Public-Private Partnership Model for Point-of-Use Water Disinfection Among Lower Income Households. The report focuses on the POU program in India, launched in 2006, and assesses experiences in Uttar Pradesh, India's poorest state, with a population of 180 million and among the country's highest rates in child mortality.
Dr. Nancy Nachbar, former Senior Program Officer for the NetMark Project, gave a presentation dubbed "Vouchers for Insecticide Treated Nets: a Public Private Partnership Model." Dr. Nachbar presided on the "Health Vouchers: Successes and Obstacles to Effective Utilization" panel, where she described how the public and private sectors worked together in six African countries to increase access to ITNS for vulnerable populations. She highlighted the successes and obstacles related to effective program implementation and ITN uptake. Dr. Nachbar also described how targeted subsidy voucher programs engaging the commercial sector can be a valuable "catch up and keep up."
Click here to view Dr. Nachbar's full presentation.
As noted by David Greeley, Vice President and Director of CPHSI, "These are great examples of two of the innovative projects managed out of our Center that demonstrate the power of partnerships and highlight important lessons learned on how to work effectively with the private sector - both commercial and non-profit entities - to create demand for and supply of critical health products to "
The Global Health Council is the world's largest membership alliance dedicated to saving lives by improving health throughout the world. Its mission is to ensure that all who strive for improvement and equity in global health have the information and resources they need to succeed.
The conference, held from June 14 – June 18 at the Omni Shoreham Hotel in Washington, DC, addressed the following critical questions:
How do the global goals help or hinder the achievement of providing and accessing essential health services for the world's poorest?
How are specific programs/partnerships contributing to the overarching goals? How are we measuring the effectiveness and efficiency of what we do? How do we share what works and what does not work in order to accelerate achievement of common goals?
Can goals be universally applied?
How can countries/governments be held accountable? How can all stakeholders/partners be held equally accountable for progress toward the goals?
How do we respond to challenges that impede progress toward goals, as well as to great performance?
For more information, click here here to visit the Conference homepage.
Posted June 2010