Jipende! Program Trains a New Kind of Peer Leader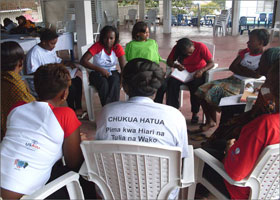 It is not uncommon for Thecla Mendile to field difficult questions about HIV from sex workers. The inquirers, peer leaders in various Tanzanian communities, are always eager to increase their capacity to provide accurate information and useful advice to their audience. While peer leaders are certainly not a new concept in Tanzania, the peer leaders Thecla works with are unique - they are all sex workers (SW) and women engaged in transactional sex (WETS).
As of June 2009, almost 300 peer educators have been trained through the Tanzanian Marketing and Communication (T-MARC) Project's Jipende!! (Love Yourself) small grants initiative. Thecla provides technical assistance to nine non-profit organizations across Tanzania receiving Jipende!! grants to train SWs and WETS as peer educators. Each NGO conducts a week-long training session each month with 15 to 50 sex workers, bar maids, and mamalishe (women who sell food by the side of the road). The training curriculum emphasizes HIV prevention, correct and consistent condom use, alternate income generation, and how to transfer lessons learned to others.
Workshop sessions on the female condom always generate a lot of interest. For several, it is their first time seeing a female condom. "To be honest," reports Thecla, "most of them are very excited." Workshop participants are shown how to use a female condom, practice using a pelvic model, and are given Lady Pepeta female condoms to try at home.
Enthusiasm for the female condom is running high because it can utilized several hours prior to sexual contact, thereby reducing the burden of negotiating safe sex. In fact, several women reported that their clients - especially those whom they contacted at bars – were wholly unaware that they were using a female condom.
Jipende! peer leaders are spreading the news about the benefits of female condoms to others. In addition to providing education, several are now selling male and female condoms to other SWs and WETS. The peer leaders are given 144 boxes of Dume brand male condoms and Lady Pepeta female condoms by the T-MARC's partner NGOs to sell. These brands, Dume and Lady Pepeta, are currently marketed by the T-MARC Company with funding from USAID and were developed to appeal to high risk groups. This activity helps generate income and provides condoms to women who may feel uncomfortable purchasing them in a shop. The peer educators are having such success selling condoms that the NGOs initially found it difficult to keep products in stock. This is especially true with female condoms; the peer educators are selling twice as many female condoms as male condoms; this is welcome, but unexpected sales trend for a product that has experienced low sales trends through traditional channels.
The Jipende! program also works to address stigma and discrimination associated with knowing one's HIV status. Thecla fondly recalls several workshops during which women surprised the group by standing up to describe about their experience with voluntary counselling and testing (VCT). "Even those who were infected with HIV/AIDS, they were able to stand up in front of the people and say, 'Look at me; I have HIV. I went for the VCT, I found I am positive, and now I am living healthily. I'm happy.'" These testimonies have provided courage to other peer educators. In one Dar es Salaam workshop, five participants out of 67 announced that they were HIV positive. This encouraged 40 others seek out VCT services for themselves.
Thecla sees that her groups are enthusiastic and wish to expand the program. "Since we are educating these peer leaders, the message is spreading all over. People are coming to us and saying, 'You are doing very good things.' I've seen people around the market recruiting...They're standing in the market, wearing T-shirts with Lady Pepeta....People are looking at them and asking questions; they are becoming teachers! People are excited."
See also
Posted November 2009
---
Read more about the Tanzania Marketing and Communications Project (T-MARC) project