R&B Superstar Kelly Rowland Visits T-MARC Project to Give "Staying Alive" Foundation Award to Former Sex Worker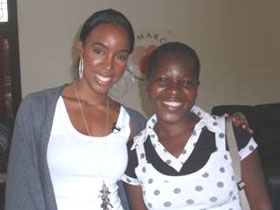 Kelly and Eliza at T-MARC offices
R&B superstar Kelly Rowland, formerly of Destiny's Child, visited the T-MARC Company's offices in Dar es Salaam in mid-June to present an MTV Staying Alive Foundation award to a former Tanzanian sex worker named "Eliza," who is now working to save the lives of her former peers. Ms. Rowland is MTV's 2008 AIDS Awareness Ambassador for the Staying Alive Foundation. The Staying Alive Foundation and the Tanzania Marketing and Communications for AIDS, Reproductive Health and Child Survival (T-MARC) project both provide small grants to support local projects that reach people who are particularly at risk for HIV infection. The T-MARC Company is managed locally and grew out of the T-MARC Project, which is managed by the Academy of Educational Development (AED) under a contract with USAID.
T-MARC works with commercial sex workers (CSW) in Tanzania to distribute grants used to educate and assist girls and women in finding other ways to support themselves and their families. Through this work, T-MARC staff met Eliza, who is doing selfless work supporting her former peers, young sex workers who want a better life.
Eliza's Sad Beginnings
Eliza was born in Iringa, located in the central region of Tanzania and approximately an eight-hour drive from the largest city in Tanzania, Dar es Salaam. Her father abandoned her mother and the family when Eliza was just a baby. When she was 12, her mother "sold" her to a family that wanted to use her as a house girl. The family promised that Eliza would go to school, but that never happened. In Tanzania, a "purchased" house girl is the equivalent of a modern slave. Girls make little (or most often no) money in exchange for a place to live. In this case, Eliza's mother received a small amount of money in exchange for not having to worry about one more mouth to feed.
As a house girl in Dar es Salaam, Eliza worked hard seven days a week. One day when Eliza was 14, the wife of the family went out, leaving Eliza home alone with the husband, who brutally raped and beat her. Bruised and battered, Eliza went to the police station to report what had happened to her, but the police refused to open the case without a bribe. As Eliza was leaving the police station, the wife and husband arrived and claimed that Eliza had been stealing from them. Eliza was thrown in jail for six horrendous months.
After being released from jail, Eliza found her way to Hyena Square, a neighborhood in one of the poorest communities of Dar es Salaam that is filled with alcoholics and addicts. Routinely, men and women meet up in squalid bars and guesthouses and then retire to backroom beds to have sex. The first day there, Eliza met a young woman who invited her to stay in a guesthouse where she lived, and subsequently taught Eliza how to sell her body to men. Eliza managed to live and work under those circumstances for about four years, but somehow managed to avoid the drug use that felled many of her peers.
Despite the horrors of Hyena Square, Eliza had good moments. She cherishes a photo album chronicling a few happy times hanging out with friends. When Eliza shows that album now, she points out all of her friends who are gone – dead from AIDS, malaria, drug overdoses, or the many other diseases and afflictions that are associated with living and working in impoverished conditions. Along the way, Eliza tested positive for HIV. She was devastated at first, but eventually realized that she could live a healthy life by taking care of her health and taking the appropriate drugs.
Eliza's Light at the End of the Tunnel
One day, Eliza met some outreach workers from a local organization that had started a counseling booth for people in Hyena Square. She was inspired. Eliza started visiting them everyday, and eventually they invited her to join them in their rescue house. Eliza left her room in the guesthouse and stopped having sex for money. She started to think about her future and before long, Eliza was the woman in the counseling booth, reaching out to her former colleagues with advice on how to escape the lifestyle and start over. She started doing more work to reach out to young women in similar situations.
Executives from the MTV Staying Alive Foundation learned about Eliza's story, and were so moved by her work that they awarded her a small grant to continue her efforts. Now in her early 20s, Eliza serves as a role model for many young girls. The Staying Alive Foundation is funding her return to her home region of Iringa, where she willwork with young women and their parents to help them understand the consequences of sending their daughters to be "house girls" in Dar es Salaam. She is also educating her community about the devastating consequences of sex work and the trials of HIV.
Kelly Rowland's Journey to Hyena Square
MTV Staying Alive Foundation Ambassador, solo artist, and multi-platinum group artist Kelly Rowland went to Tanzania to meet with Eliza and to present her with the award. Kelly spent time with Eliza and T-MARC staff at their office in Dar es Salaam learning about the issues that girls, women, and CSWs face in Tanzania. She then toured Hyena Square and met and interviewed other sex workers involved with T-MARC's work. Kelly stood by Eliza's side as she gave her an unabridged tour of the neighborhood she called home for many years. Kelly spoke with many young women and shared that she grew up in a household with no father like many of them and understands that loss. She also shared that she believes in the power of faith and the perseverance to create a better life, just as she did for herself.
To learn more about the Staying Alive Foundation and Kelly's journey through Africa, visit http://www.staying-alive.org and http://www.kellyrowlandafrica.com/
Posted July 2008
---
Read more about the Tanzania Marketing and Communications Project (T-MARC) project
Contact