Putting Pictures and Words Together to Tell Health Stories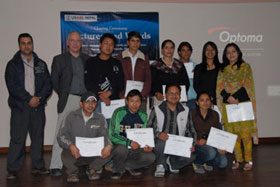 "I now know exactly which angle to shoot from", says Sita Adhikary, 24 year old journalist from rural Nepal who, along with her 13 colleagues from Sagarmatha Television - Nepal's first 24-hour news channel, benefited from a journalist training workshop on public health issues in Kathmandu.
For nearly ten years while walking up and down along the rice fields of her native Dhading district, Sita Adhikary foraged for stories to submit to a national newspaper. Her transition to broadcast media occurred when a Kathmandu-based FM radio station offered her a position as a district reporter. This was the first in a series of transitions. A year ago, she heard that a new television channel was looking for a reporter in her district. She applied and as the only woman working as journalist in her district, received the job offer.
Within days Ms. Adhikary realized that television journalism was somehow different – fun certainly but also complex. All of sudden, words were not enough. She needed pictures to accompany them. And taking good pictures required a good knowledge of light, camera, and sound.
The scope and breadth of Nepali Television in the past few years has expanding exponentially. Nine years ago, the country had one state controlled TV channel; today there are nine. Up to twelve more channels are in the works, likely to join the media landscape in the near future. Despite the growth in channels, the content is relatively standard on the channels. Nepal's broadcast news content is dominated by politics, accidents and conflict, considering Nepal's current political situation, the lack of interaction with international journalists and the limited technical capacity of station production teams. Stories about the increasing public health challenges in Nepal are noticeably missing on the television.

In an effort to address this weakness, the USAID-funded N-MARC project, in collaboration with Nepal CRS Company, conducted the Pictures and Words television health journalism training program in March 2008 in Kathmandu. Fourteen journalists at the newly established Sagarmatha Television channel, including Ms. Adhikary and eight other participants from remote districts of Nepal, attended the training program.
The training provided a unique opportunity for Ms. Adhikary and her colleagues to learn the latest news making skills from Daniel Lak, a globally recognized journalist and former BBC correspondent in Nepal. The training, lasting five days, focused on techniques to capture the nuances required for effective health reporting. The president of the Nepal Press Council shared his experiences in the ever evolving Nepali media landscape with the participants, as did Mr. Lak.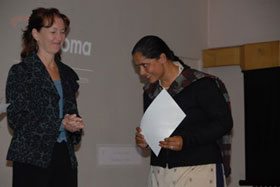 Besides empowering the participants with new skills, USAID's investment in this training will result in an immediate change on Nepali television. Sagarmatha Television has agreed to produce and air Nepal's first news bulletin dedication to health issues. The main focus of this exciting 3-minute addition to Sagarmatha's news bulletins, to be aired ten times daily, is to give voice to the voiceless on key health issues such as HIV/AIDS, reproductive health, and child survival.
Posted March 2008
---
Read more about the Nepal Social Marketing and Franchise Project (N-MARC) project