GIS Mapping Focuses N-MARC Condom Marketing and Distribution Efforts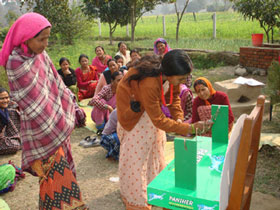 Global Information System (GIS) mapping is proving to be an innovative and effective tool for the Nepal Social Marketing and Franchising (N-MARC) Project's condom marketing efforts.
Research shows that populations most at risk for contracting HIV/AIDS tend to concentrate in specific geographic areas – "hot zones" – where they initiate commercial sexual activity in "hot spots," like massage parlors and dance restaurants. One of N-MARC's key objectives is to increase the availability and use of condoms by most-at-risk populations, typically female sex workers and their clients, thus N-MARC is employing the use of GIS mapping of these "hot zones" to target condom promotion and distribution activities.
MITRA Samaj, N-MARC's local research partner, uses a cadre of enumerators to identify and survey known zones to collect GIS and other data on establishments where commercial sexual activity begins; the research team also maps condom-dispensing outlets among a sample of the defined geographic areas.
Using precise geographic data, N-MARC's private sector partners are armed with an invaluable resource to ensure their condom marketing and distribution efforts are tailored to specific geographic areas and most-at-risk groups. The maps provide them with a visual representation of where new outlets should be and what communication activities are required, resulting in more focused and efficient activities.
Initial results are promising. Due to the intensive efforts of N-MARC's condom partners, over 5,000 new condom outlets have opened in these "hot zones" over the past year. Additional research determined that sex workers are unwilling to walk farther than 100 meters to purchase condoms; in response, N-MARC and its partners successfully increased the number of "hot spots" selling condoms within 100 meters from 61% in February 2008 to 67% in July 2008, only five months later.
Posted September 2008
---
Read more about the Nepal Social Marketing and Franchise Project (N-MARC) project