WHO Expert Advises Indonesian Pediatricians to Use Zinc to Treat Diarrhea
Surabaya, Indonesia – Child health expert Dr. Olivier Fontaine of the World Health Organization called for the extensive use of zinc therapy to treat childhood diarrhea during his keynote speech at the 14th Annual Indonesian Pediatricians' Congress (KONIKA) in early July 2008. More than 3,000 Indonesian pediatricians attended the congress with the theme "Competence-Based Professionalism in Pediatrics."
Representatives of the AED-managed USAID Point-of-Use Water Disinfection and Zinc Treatment (POUZN) project worked with Prof. Dr. Subijanto, head of the KONIKA scientific conference, to coordinate Dr. Fontaine's lecture at the congress. In his plenary session presentation, Dr. Fontaine emphasized the five essential steps to treat childhood diarrhea, known in Indonesia as "Lintas Diare".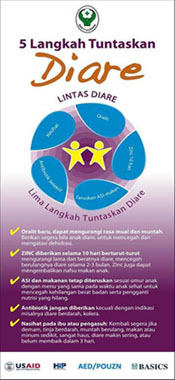 The Five Essential Steps are:
Oral rehydration treatment (ORT) can prevent and treat dehydration when given to a child soon after the onset of diarrhea.
Zinc provided for 10 consecutive days will reduce the duration and severity of diarrhea. Zinc can also help restore the child's appetite and reduce the likelihood of diarrhea recurring for the following 2-3 months.
Continued feeding and/or breastfeeding will prevent the excessive loss of weight and nutrition.
Antibiotics should not be given except in cases of bloody diarrhea and cholera.
Advise mothers and other caregivers to see a health provider immediately if a child experiences fever, bloody stools, persistent vomiting, loss of appetite/thirst, extreme thirst, or if the diarrhea becomes more frequent or does not improve within 3 days of the first episode.
Throughout the congress, other prominent "zinc champions" led discussions on the treatment while POUZN distributed souvenir fans and displayed vertical banners echoing the Lintas Diare message. To maintain the enthusiasm and momentum for zinc beyond the conference, POUZN arranged for press coverage at the event by four medical magazines. These journals, which will run articles from August to December, will feature comments from zinc experts and conference highlights.
Currently only two Indonesian companies—Kimia Farma and Indofarma—manufacture zinc treatment products for diarrhea. However, with the continuation of coordinated promotion efforts by POUZN and other zinc champions, USAID expects to see a significant expansion of supply, demand, and distribution of zinc to emerge by 2009.
Posted July 2008
---
Read more about the Point-Of-Use Water Disinfection and Zinc Treatment Project (POUZN) project