Publicizing Partnerships: N-MARC Particiapates in USAID's "Share Fair"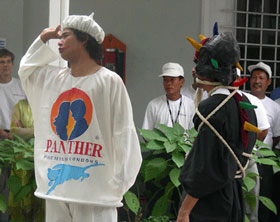 On June 5, 2007, the N-MARC project participated in the USAID/Nepal "Share Fair". The one-day Share Fair event was organized by the Mission, at its Rabi Bhawan premises, marking its 56 years of development work in Nepal. Profiling its work with local partner, the Nepal Contraceptive Retail Sales (CRS) Company, the N-MARC Project displayed CRS' socially marketed products, project activity photographs, project publications, brochures, reports, coverage related maps, charts and diagrams and an activity map of Nepal.
American Ambassador to Nepal, James F. Moriarty, visited the CRS/N-MARC booth and spoke with AED Resident Advisor, Peter Oyloe, and CRS Managing Director, KB Rayamajhi, who discussed each of the USAID-donated public health commodities that CRS have been distributing for nearly 30 years. Oyloe and Rayamajhi further laid out for the Ambassador the current reach of "Sangini" (Woman's Friend) family planning service outlets, which have expanded across hard to reach areas in Nepal due to the efforts of CRS and the Nepal Fertility Care Center (NFCC), another key N-MARC local partner.

Additionally, CRS organized a street drama that was performed several times throughout the fair by a local organization called Gurukul. Gurukul's drama conveyed messages of HIV Prevention and Family Planning as an actor playing CRS' socially marketed condom 'Panther' fought with an actor playing 'the HIV virus' following various dialogues between several different types of couples.
USAID/Nepal invited all its implementing partners to participate in the event to profile its history, projects, achievements, and current programs. Event participants included the diplomatic and donor communities, I/NGOs, Government of Nepal officials and other VIPs, and media.
Posted June 2007
---
Read more about the Nepal Social Marketing and Franchise Project (N-MARC) project