N-MARC's GIS Mapping Enhances Condom Distribution
Challenge
A female dance cabin employee purchases a Panther condom at a non-traditional outlet outside her place of employment. A man walks into a pharmacy and purchases 3 Black Cobra condoms late in the evening. A young couple buys a box of Dhaal condoms at the general store across the street from their house on a Saturday afternoon. Three different customers purchase condoms in three distinct ways - at three distinct places. Understanding their disparate needs and making sure the product is where it needs to be is one of the goals of the USAID-funded Nepal Social Marketing and Franchising Project: AIDS, Reproductive Health, and Child Survival (N-MARC). As part of its effort, N-MARC has enlisted the services of Mitra Samaj, a Nepali NGO with significant experience using GIS technology for mapping coverage of health products and services, to map the areas in Nepal's Kathmandu valley where high-risk sexual activities are known to take place. This is a crucial first crucial step in making this goal a reality.
Initiative
The mapping of these 'high-risk' areas used a systematic process developed over the past four years under USAID/Nepal-funded private sector health programs. First, N-MARC and Mitra Samaj identified hot spots, or places where sex negotiation takes place or sexual activity takes place. From each hot spot they measured a 100 meter catchments area - or the average distance a person might walk to get a condom - and connected overlapping hot spots, creating 'hot zones'. The 'hot zones' were layered over the geographical map of the Kathmandu Valley. Mitra Samaj then returned to identify condom selling outlets in 19 randomly selected 'hot zones'; enumerating all the outlets in these zones, the team developed a clear picture of relationship between condom-selling outlets and the 'hot spots'. To gauge access, Mitra Samaj also identified the number of women working in and around the 'hot spot'.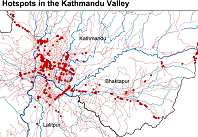 Results
Through this GIS mapping targeted at quantifying quality of condom coverage areas and access to condoms for females working in designated hot zones, the project now possesses a clearer picture of the status of condom coverage in the capital region. However, beyond the depth and breadth of the data lies a new story. N-MARC is producing rich data that illustrates the opportunities in place for the commercial and social marketing sectors to reach the right consumers, at the right times, with the right products, leading to a greater and more accurate measurement of public health impact.
Posted October 2007
---
Read more about the Nepal Social Marketing and Franchise Project (N-MARC) project